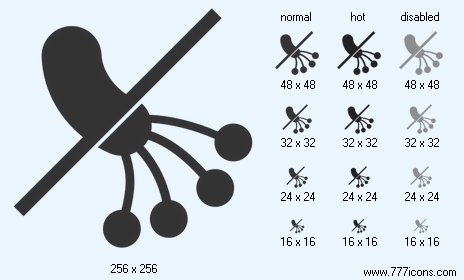 No Bacteria Icon
| | | |
| --- | --- | --- |
| | | |


Image sizes: 1024x1024, 512x512, 256x256, 128x128, 64x64, 48x48, 32x32, 24x24, 16x16
File formats: BMP, GIF, PNG, ICO


Purchase entire Coronavirus Outbreak Icons now!
View Coronavirus Outbreak Icons now!
Download demo icons
Should you use stock icons?
There is definitely no shortage of websites that provide stock icons; however, people often ponder if using these stock icons will prove advantageous to their website design and applications; so, here is some information on how you can benefit by using stock icons.

If you are into website designing or are a programmer adept at application programming, you must have a fair idea about how icons are often the first impression creators; they can turn your software or site from being merely functional to one that is has a professional touch, easy to use and eye catching.

However, designing your own graphics can be incredibly taxing and of course a waste of time.. If you hire the services of a web graphics designer, you will end up paying him a small fortune for the icons. On the contrary, you can get similar quality from stock icon sets sold online for a relatively low cost. A library of stock icons can include more than 100 images, provided in a variety of file formats that are perfect for showing the functions common to every second websites and software programs; for example, help, lock , copy, paste and others.

If you cannot buy stock icons that meet your needs, you can always contact one of these websites and tell them to design specialized graphics for you; this is an immensely suitable option; to state it factually, the designer who worked on the original graphics will have the experience to maintain some degree of commonality in all the graphics of a series associated with a distinct theme.

The next question that several people ponder over is whether they should select the commercial graphics or pick free collections, so here is a look at some of the advantages of commercial stock icons over the free collections:

Price: The rate of an collection of graphics is generally in the vicinity of $100 and over depending on the number of icons. However, free icon collections will usually have infringement related issues and/or you will have to include accreditations while using them.

Size: Good quality stock icon sets can be bought in a myriad of pixels, so although you buy one icon, you can get them in several sizes such as 16x16, 24x24 etc; you can also buy them in different states such as disabled, hot etc. On the other hand; free images are only available in a single state and size

License: You may encounter some problems with the a license that costs nothing; you will not be able to modify the icons in anyway nor will you have a free hand to utilize them as much as you like but with commercial stock icons, you can utilize the stock icons innumerable times in the most esoteric contexts.

Utility: Commercial stock icons will usually have enough images to cover all your programming and web graphic requirements but with free graphics even if you were to manage to get good quality images, they are far and few between this would mean that it may be impossible to use them in your application creation and web designing.



Individual Ready Icons
You can buy individual icons to suit your needs. Each icon is $1 when purchased individually.
Icon Usage Agreement
Variety of military-style icons from our
Military Icon Set
will make your operating system appear more current and attractive. The graphics are delivered in ICO, GIF, PNG and BMP file formats.
Small Toolbar Icons
will breathe new life into your interfaces and add a great value to your software or website. This icon set contains all the images you need to complete your project's design.
Database Icon Set
brings you a variety of bright and colorful icons for database application development. The images are provided in all the common icon sizes and file formats include PNG, BMP, ICO and GIF.
Music Icon Library
will help you illustrate all the musical related objects. Available sizes are 16x16, 24x24, 32x32, and 48x48, the file formats are PNG, GIF, ICO and BMP.
Standard Application Icons
is a set of pre-made icons that will make your software stand out on the market. All the icons have bright colors, stylish shiny texture and smooth edges.