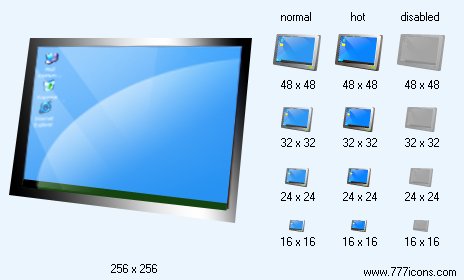 Desktop Icon
| | | |
| --- | --- | --- |
| | | |


Image sizes: 256x256, 48x48, 32x32, 24x24, 16x16
File formats: BMP, GIF, PNG, ICO


Purchase entire Windows Toolbar Icons now!
View Windows Toolbar Icons now!
Download demo icons
Create Your Own Icon Set
Extracting icon images from files, programs, DLL files and even Internet has never been simpler. Sib Icon Extractor makes creating icon libraries quick and simple.

Whether you are a software developer and need all of your icons maintained in a single library, or a computer enthusiast making a big collection of desktop images, you need a tool to automate the process of extracting and organizing icons. Sib Icon Extractor is exactly the tool you are looking for! With Sib Icon Extractor, you can extract icons from individual programs or icon libraries, folders, or entire hard drives quickly and easily, creating dedicated icon collections or storing each image as a separate file.

Extract icons from anywhere, including ICO, CUR, ANI, EXE, ICL, DLL, SCR, IL, NIL, DCR, RES, OCX, VBX, DPL, BPL and other files and libraries that may contain icons. Even if these files are compressed inside of a ZIP or RAR archive, Sib Icon Extractor will still get them!

Windows Vista has introduced a new format of icon images. Slick, large 256x256 images are used in Vista applications. No icon extractor could obtain those without being modified for Vista compatibility. Sib Icon Extractor fully supports the large Vista icons, getting you the entire set of icon images when you extract images from Vista-compatible files!

Windows has a great many icons, but Mac is a whole new world. Extract icons from Mac applications and Mac OS files just as easily! Enhanced with Mac icon images, your Windows desktop will be the coolest on the block.

Sib Icon Extractor is not limited to extracting icon images from files stored on your local hard disks. It can connect to the Internet and extract icons from there! No need to download files onto your computer, as Sib Icon Extractor will grab icon images from the Internet completely automatically.

Do more with your collection! Sib Icon Extractor keeps icons it discovers in ICC icon libraries, and includes icon source information for easy navigation and future reference. Accessing your collection has never been simpler! Navigate, sort and arrange icon images inside collections, easily find icon images for using in your project, add, remove and organize icon images simply and conveniently.

This icon extractor allows splitting icon libraries into individual files, making it possible to publish icons or to put them on the Web. With Sib Icon Extractor, it is now easy to customize standard Windows desktop and folder icon images such as My Computer, Recycle Bin, Network Neighborhood and Control Panel. Customizing folder and file type icons is easy from within Sib Icon Extractor. Get more information or download your free evaluation copy at www.sibcode.com.



Individual Ready Icons
You can buy individual icons to suit your needs. Each icon is $1 when purchased individually.
Icon Usage Agreement
Small Toolbar Icons
will breathe new life into your interfaces and greatly improve your application or website. This icon set contains all the images you need to finish your project's design.
Vista Network Icon Library is a set of network-related graphics. The collection is distributed as PNG, BMP, GIF and ICO files. Each icon has 16x16, 24x24, 32x32, 48x48 and 256x256 versions.

Vista Financial Icon Library is a collection of finance and shopping related icons in contemporary Vista style. The collection is distributed as ICO, GIF, PNG and BMP file formats.
Plenty of military icons from our
Military Icon Set
will make your application's interface appear more modern and engaging. The graphics are provided in GIF, PNG, ICO and BMP file formats.
To get the top quality icons for your graphic editing application or design Web site, select the
Graphic Icon Set
, crafted by professional designers in a variety of sizes, file formats and color schemes.