---

All the icons from Search Icon Library are carefully created pixel by pixel by the hand of a professional artist. They shine with a bright palette of colors, smooth and well-rounded edges. Superb in their quality, icons will help a developer to place a truly professional feel to his project's interfaces without the need to hire a designer or spend days and even weeks on designing icons on his own.

These icons are available in sizes 16x16, 20x20, 24x24, 32x32, 48x48 and 256x256. They are provided in two color solutions: 256 colors or True Color with semi-transparency. The icons come in ICO, PNG, GIF and BMP formats.


Search Icon Library
Download demo icons
Purchase this icon set for $49.00 now!

You can also buy individual icons to suit your needs. Each icon is $1 when purchased individually. Please contact us with the icon names you wish to purchase and we will process your order immediately. (Note: Minimum purchase is 3 icons.)

You can order a collection of icons with only some of the available sizes, e.g. 24x24 and 32x32. In this case you will get a discount off the usual price.

All of the icons above are available in the following image formats:


Search Icons - Example
---
Icon XP - Take More Advantage of XP Icon Editor!
XP Icon Editor is a kind of program that allows users to create or edit different icons comprises of smooth transparency. There are also several benefits which pro graphic artists and professionals can draw with the help of the XP Icon Editor and these are:
If you are pro graphic artists, then you can now take help of the XP Icon Editor in order to create as well as edit icons even with their standard sizes or color depth.
You can create or edit icons for Windows XP with the 32 bit color depth.
You can edit or open those digital images that comprises of 3000x3000
You can now import images with several graphic formats
You can capture screen shots to create effective icons from them
You can paint those images with the cheese fill and gradient
You can alter images with the drop shadow and you can even rotate or colorize them to generate a better appearance
Export icon images to ICPR, ICO, JPEG, BMP, PNG, CUR, RC, GIF, XBM, XPM, WBMP as well as Adobe Photoshop files.
You can capture the screen images
Paint the images with the gradient & chess fill
Modify the images with the drop shadow, rotate, smooth, colorize, grayscale, hue or saturation, roll as well as mirror effects
Replace the image colors and import or export the icon color palettes
Sort the images in icons
Modify default icons Windows that uses to display Recycle Bin, My Computer, Start menu items, Internet, shortcut, drives, as well as sharing overlays, and system folders as well as other objects
Customize the desktop attributes
Customize the folder icons
The website and application is set to launch; all you require are few more icons to make the product stand out. You search and browse for perfect however you will not find one, which satisfies you. Which one is a perfect solution? Design your icon and you may download the simple icon creator in IconXP page.

You can download icon editor here: http://www.aha-soft.com/iconxp/


---

Individual Ready Icons
You can buy individual icons to suit your needs. Each icon is $1 when purchased individually.
Icon Usage Agreement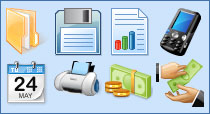 Ready-made stock icons in a variety of versions, sizes, color resolutions, and file formats to speed up application development.
View icons
Large Weather Icons
depict different weather conditions typical in software, weather portals, and mobile gadgets. The icons come in all sizes standard to Windows, Mac OS, and mobile devices. The largest versions are huge 512x512 pixel icons with vector sources in Adobe Illustrator (.ai) format easily available and ready to be printed or used in presentations in highest quality.
Business Icon Set
is a library of top- quality stock icons for use in programs and on websites. They are provided in a variety of formats, sizes and color schemes.
Small Toolbar Icons
will breathe new life into your project's GUI and greatly improve your product or website. This icon set includes everything you need to finish your project's design.
Free Business Desktop Icons
is a collection of 10 ready icons to be used in commercial and personal projects, such as software applications, websites, blogs, and desktops. The images are free for personal, frequent and commercial use.
If you are interested in a contemporary and attractive interface for you e-commerce software, consider using icons in large sizes.
Large Commerce Icons
collection by Aha-Soft is exeactle what you need. This set provides the best appearance to all your products.