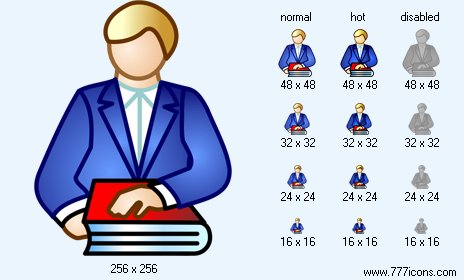 Lawyer Icon
| | | |
| --- | --- | --- |
| | | |


Image sizes: 256x256, 48x48, 32x32, 24x24, 16x16
File formats: BMP, GIF, PNG, ICO


Purchase entire Professional Icon Set now!
View Professional Icon Set now!
Download demo icons
Tags: tray icons, a lot like love icons, crystal clear icons, tiny heart icons, icons for your xanga
It is possible to learn for certain to excuse and forget the enemies; for It it is necessary to take a great interest in any important raised business. Then Insults and enmity which we meet in a life, have no Values because we will remember only the business.

Эпиктет nineteen centuries ago has noticed that we usually reap Fruits of that we sow, and for some reason the destiny almost always forces us To pay off for our evil deeds. "Finally, - Epiktet has told, - Each person will pay for the crimes. The person, which it Remembers, will not be to become angry about anybody, will not be to be indignant at anybody, Anybody will not scold, anybody will not offend, there will be nobody To hate ".

Possibly, any statesman in the history of America not Was exposed to such insults, hatred and a deceit, as the Lincoln. However The Lincoln, according to the classical biography of Gerndona, "never judged about People on the basis of that, they were pleasant to it or were not pleasant. If it is necessary Was to carry out any important action, it could charge it Even to the enemy if that for this purpose approached. If the person slandered on It or it is rough with it managed, but nevertheless was the best Nominee on the given post the Lincoln appointed it without Fluctuations as though it there was its friend... I do not think, that it Has sometime displaced the person of that that was its enemy or Because of непрязни to it ".

The Lincoln was exposed to charges and insults from outside those People who held in its government high posts - Makklellana, Сьюарда, Stentona and Chejsa. However, according to Gerndona, the lawyer, The Lincoln considered that it is not necessary to praise any person, To blame for that it has made or has not made, because "all of us so or Otherwise are subject to influence of conditions, circumstances, environment, The educations, the acquired habits and hereditary these fig. Factors form the person and do its such what it is also what it Remains for ever ".

Probably, the Lincoln was right. If you and I have inherited Physical, mental and emotional features, which Our enemies and if the life would manage with us the same as have inherited With them, we would arrive the same as also they. Most likely, we not Could behave differently. As quite often told Klarens Darrou: "All The nobility - means all to understand, and it does not leave a place for charge, For condemnation. Therefore instead of hating our enemies, Let's regret them and we will render thanks to the Lord that the life has not made Us such what they are. Instead of condemning ours Enemies and to revenge them, we will concern them with understanding, we will show sympathy, Readiness to help and amnesty also we will pray for them ".



Individual Ready Icons
You can buy individual icons to suit your needs. Each icon is $1 when purchased individually.
Icon Usage Agreement
Free Business Desktop Icons
is a collection of 10 ready icons to be used in commercial and personal projects, such as software, websites, blogs, and presentations. The images are free for personal, frequent and commercial use.

Speed up creation of online couple-search Web sites and applications with ready-made
Dating Web Icons
. The collection contains over fifty love icons in various sizes and file formats.
20x20 Free Toolbar Icons
collection has all the images you need for your web site or software toolbar.
24x24 Free Toolbar Icons
library has all the images you need for your web project or application toolbar.
Yellow Web Buttons
give a package of navigation icon images for social networks and custom web products. The icons are easy on the eye, and provide a uniform theme painted in yellow. The delicious buttons for delicious sites:)