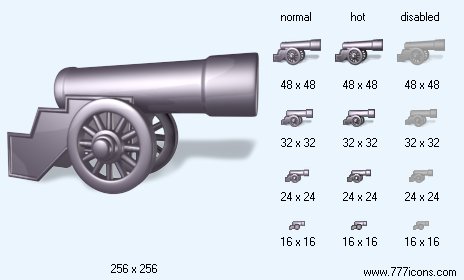 Old Cannon with Shadow Icon
| | | |
| --- | --- | --- |
| | | |


Image sizes: 256x256, 128x128, 48x48, 32x32, 24x24, 16x16
File formats: BMP, GIF, PNG, ICO


Purchase entire Military Icon Set now!
View Military Icon Set now!
Download demo icons
Developing Programs for Pharmaceutical Industry Faster with Medical Icon Package for Vista
Royalty-free medical icon collection to help software developers design software for health care customers, medical and pharmaceutical clients faster. Medical Icons for Vista are Windows Vista compliant, and come in resolutions of 16x16 to 256x256 pixels.

Designing software for health care clients, medical and pharmaceutical industries requires the use of some specific symbols in applications. Aside from the Red Cross, many images that need to be incorporated in a typical medical product are little known and cannot be reused in other developments. Investing into a custom-built set of unique, custom-drawn images just for the medical project is likely to increase the budget and waste precious time without giving any significant benefits over using a stock image set.

Medical Icons for Vista by Vista Style Icons are royalty-free and instantly available for preview and purchase. Designed as a matching set, the medical icon collection includes several hundred meticulously crafted images in a variety of versions and resolutions. Every size and version of every medical icon is detailed from the smallest size of 16x16 dots and up to the largest available resolution of 256x256 dots. Conforming to the newest Windows Vista design recommendations, Medical Icons for Vista are supplied in all standard sizes of 16x16, 20x20, 24x24, 32x32, and 48x48 pixels, and provide 256x256 pixel versions that are unique to Windows Vista. All medical icons are supplied in 256 colors and 32-bit True Color with semi-transparency. All medical icons from the medical icon set are available with and without shadow. The medical icon set comes in BMP, ICO, PNG and GIF formats for quick integration with Windows applications and Web projects.

Medical Icons for Vista are ready to be used as toolbar icons, application icons, and random graphics throughout the product, such as images used in wizards and dialogs. Providing a number of icons in a single pack, the medical icon set includes symbols such as Food icon, Doctor icons, History icon, Heart icons, Hospital icons, Small Heart icon, Yes and No icons, Dog icon, Info icon, icon For No, Medical icons, and List icon.

The medical icon set depicts practically all objects, symbols and actions that are likely to appear in a typical product designed for health care providers, medical and pharmaceutical clients. The medical icon collection is instantly available and costs only $99, and can be previewed at 777icons.com. Individual icons from the medical icon collection can be purchased for $1 each.



Individual Ready Icons
You can buy individual icons to suit your needs. Each icon is $1 when purchased individually.
Icon Usage Agreement
Business Icon Set
. A collection of all-purpose icons with various symbols for the business environment for use with your software or on your website.
Medical Icons for Vista
has been design to eliminate any misconceptions appearing while looking at a medical webpage or operating a medical software. The icons are available in numerous sizes and formats.
Developing software for hotel business is quite a challenge, and rarely there is time to think about GUI for your product. With
Standard Hotel Icons
you will momentarily get all the images you need at an affordable price.
If you are searching for a perfect-looking set of toolbar icons for your brand-new or redesigned application, make sure to try
Basic Toolbar Icons
! This pack contains images for Schedule, New, Update, Folder etc.
Save on development of couple search Web sites and applications with ready-made
Love Icon Set
. The set holds over sixty love icons and symbols.