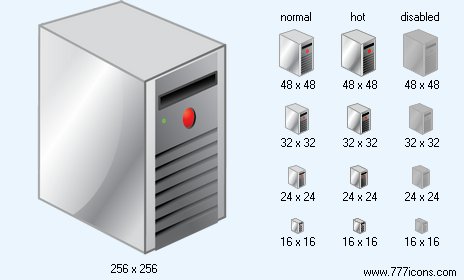 Server Icon
| | | |
| --- | --- | --- |
| | | |


Image sizes: 256x256, 48x48, 32x32, 24x24, 16x16, 512x512
File formats: BMP, GIF, PNG, ICO


Purchase entire Database Icon Set now!
View Database Icon Set now!
Download demo icons
Tags: recyclebin icon on desktop, icon burgess hill, boardmaker icons, icon face, server icons
Generally silly to go in the rain in clothes. After all will come to to nobody mind to take a shower in a dress. If the rain goes, it will be necessary to undress, that's all. This most reasonable decision. Only here a problem - where to put clothes? With a shower all is clear; before becoming under it, all clothes you put in the car for cleaning. Perhaps, here she can be put under the big stone? Or to construct a small small house and in rainy weather to keep there clothes. Eventually, what for in general something to dress during a rain? And in a fair weather? Certainly, when coldly then it is necessary to put on, it is clear. But if warmly...

In effect here in general it is possible to do all that it would be desirable. Here only it and the big, very good planet, absolutely empty. The planet surrounds it, wraps up, as a huge soft blanket. It is more than anybody and anything here is not present - only a complete silence.

It wanted to it to make something. Only silence. It even in thoughts has only whispered this word not to intrude upon in any way leisure reigning on a planet.

Silence. Suddenly Marlena was sharply straightened. Silence?

But after all it has come here specially once again to hear this voice. Today she will not be frightened, will not cry. Where a voice?

There and then, as if the response to its call, it was distributed:

At the girl heart was hardly hammered, but it behaved in hands. If only not to show that you worry or, is worse than that, are afraid. She was examined and has very easy asked: - Where you, tell, please?

- It is possible to speak... Without... Air fluctuations. Undoubtedly, it was the voice of Orinelja, but Orinel never spoke such words. It seemed, speech is given to a voice with great difficulty, but all becomes gradually better and better.

- Later it will be even better, - the voice has told. It has answered nothing. Now she at all did not say aloud but only thought phrases:

- Likely, it is not obligatory to me to speak. Simply enough to think.

- It is enough to you to adjust a configuration of your brain. You already do it.



Individual Ready Icons
You can buy individual icons to suit your needs. Each icon is $1 when purchased individually.
Icon Usage Agreement
Large Weather Icons
represent a number of weather conditions typical in software, weather Web sites, and mobile gadgets. The images come in all resolutions standard to Windows, Mac OS, and mobile platforms. The biggest versions are huge 512x512 pixel images with vector sources in Adobe Illustrator (.ai) format easily affordable and ready to be printed or used in presentations in highest resolution.
Yellow Web Buttons
offer a pack of navigation images for social networks and custom web sites. The icons are easy on the eye, and provide a uniform theme painted in yellow. The delicious buttons for delicious sites:)
Free 3D Social Icons
represent a free icon library specially designed for Web pages and software projects dealing with all types of social networks. The pack contains images for various communication technologies and web-sites.
Make your software look as nice as Vista with icons crafted in the same style
Medical Icons for Vista
has been design to avoid any misconceptions appearing while viewing a medical Web site or using a medical software. The images are available in numerous sizes and formats.