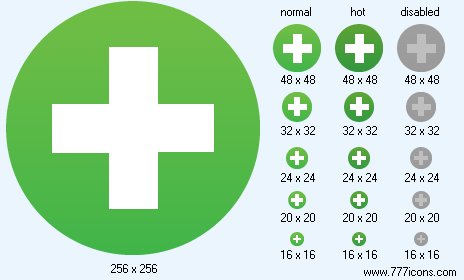 Create Icon
| | | |
| --- | --- | --- |
| | | |


Image sizes: 256x256, 64x64, 48x48, 32x32, 24x24, 20x20, 16x16, 512x512
File formats: BMP, GIF, PNG, ICO


Purchase entire Color Flat Icons now!
View Color Flat Icons now!
Download demo icons
Ready-made Icons for Small Business Solutions
Speed up product development and save with Small Business Icons! Over a hundred small business icons are readily available with full preview.

Developing a solution for small businesses? Developing a business Web site or designing a product for entrepreneurs? You'll need professional-grade graphics to use throughout your products.

When it comes to graphics, your choices are few. You can order your icons from an established design company, and pay a lot of money. You can hire a freelance designer, pay less yet lose on quality and on-time guarantees offered by reputable studios. Or you can buy stock icons, paying just a few dollars and getting your graphics immediately.




Stock icons offer numerous benefits over other options. Stock icons are readily available, and usually come with full previews; you'll always know beforehand what exactly you will be getting, and when. Finally, if you purchase your graphics from a right place, a single purchase can be used in all of your projects without you paying extras in licensing.

Speed up project development and save big! Small Business Icons by small-icons.com are instantly available, royalty-free stock images allowing Web designers and software developers to make Web sites, services and solutions for small businesses faster. Small Business Icons are royalty-free, so that you can use images from the collection in as many different products as needed without paying extras in licensing fees. Free online preview is available, with multiple demo images included into a downloadable evaluation set.

The icons from the Small Business Icons pack include a wide range of items, notions and actions typical for many small business environments. Images such as Print, Support, Order, Yen, Dollar sign, a variety of currencies, Information Security, Shopping Cart, Briefcase, Lock, and alike are included with the Small Business Icons library.

Technically, your purchase will get you more than a hundred small business icons in a number of different resolutions, color depths, and file formats. All images from the Small Business Icons set are provided in resolutions of 16x16, 20x20, 24x24, 32x32, and 48x48 pixels. Both 8-bit and 32-bit versions are included. All icons from the Small Business Icons library are supplied in ICO, BMP, GIF, and PNG file formats. Three different states are available: normal, disabled, and highlighted.

Full previews of all Small Business Icons along with a downloadable demo set are available at www.small-icons.com.





Individual Ready Icons
You can buy individual icons to suit your needs. Each icon is $1 when purchased individually.
Icon Usage Agreement
Business Icons for Vista
is a ready-made graphic solution, which is well suited for a variety of financial websites and programs. This set comes in all standard sizes in 256 and 32-bit color.
Enhance your multimedia product for High Definition displays with pre-made
Multimedia Icons for Vista
. This set will cut down your project costs and quicken development.
Word Icon Library
is a pack of wonderfully- created pre-made icons for use in business and private products, such as text editors, graphic editors, information managers.
The
Small Business Icons
set is a great solution for fast GUI development in the financial field that will bring the release date closer and keep you independent from 3rd-party designers.
Quicken the creation of communication projects and services and enhance the intuitiveness and appearance of your new project with pre-made
Small Phone Icons
.