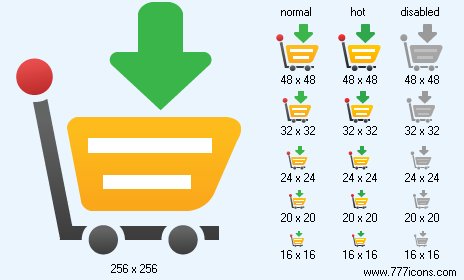 Add Product Icon
| | | |
| --- | --- | --- |
| | | |


Image sizes: 512x512, 256x256, 64x64, 48x48, 32x32, 24x24, 20x20, 16x16
File formats: BMP, GIF, PNG, ICO


Purchase entire Color Flat Icons now!
View Color Flat Icons now!
Download demo icons
Enhance your programs with professional icons
Program Toolbar Icons are drawn in one style, and share common gamma and drawing style, making your product look perfect.

Developing a new software product? Want to make it look perfect yet have a distinctive look? Empower your new project with ready-made Program Toolbar Icons by Perfect Icon! Over a hundred of variousimages are readily available to enhance your new product. Use the icons for toolbars, navigation, wizards and dialogs. The Program Toolbar Icons are perfectly legible, and come in numerous standard sizes, resolutions, states and color depths .

Outsourcing the graphics indeed makes your product unique. The unique style is about the only good thing about custom graphics. Everything else about the outsourced graphics is a negative. Time and money, specifications and making a matching set, colors and styles, even the personal tastes can be vastly different from one design studio to another.

Program Toolbar Icons are available for immediate download, making it possible to make your own judgment about whether or not the particular collection of icons matches your goals. With Perfect Icon, you always see what you get!

Program Toolbar Icons come in numerous sizes and resolutions. Your order gets you all sizes of 16x16, 20x20, 24x24, 32x32, 40x40, and 48x48 dots in 256 colors and True Color with transparency. Every icon is provided in three different states: normal, disabled, and highlighted. Your icons will come in all of the following file formats: Windows Icon (ICO), Bitmap .bmp, GIF, and PNG.

Program Toolbar Icons are created by software developers for software developers, and contain more than 100 pieces that are most likely to be used in your application. Up and Down arrows, Undo and Redo, Go and Stop, Cut, Copy and Paste are just a few to name. There are numerous symtols, notes and other pictograms available to enhance your toolbars and navigation.

Program icons are made to match, and share common gamma and drawing style, making your product look fresh and solid.

These icons are great for utilities specified to run in Windows XP and Vista, but the available 256-color variants make it easily possible to target applications for earlier versions of Windows. Save time and money and empower your software by using ready-made Program Toolbar Icons!



Individual Ready Icons
You can buy individual icons to suit your needs. Each icon is $1 when purchased individually.
Icon Usage Agreement
Enhance your new product or Web site with instantly-available, professionally designed icons. Design intuitive, stylish and attractive GUIs.
Plenty of military icons from our
Military Icon Set
will make your operating system appear more modern and attractive. The images are provided in BMP, ICO, PNG and GIF file formats.
Small Toolbar Icons
will breathe new life into your project's GUI and add a great value to your product or website. This icon pack contains all the images you need to create your project's design.
Speed up creation of communication products and services and improve the usability and look of your new project with ready-made Phone Icons.
Instantly refine your project with readily available, professionally designed icons.
Blue Icon Library
contains dozens of icons that are crafted to look strict and stylish.